Focus-group Meetings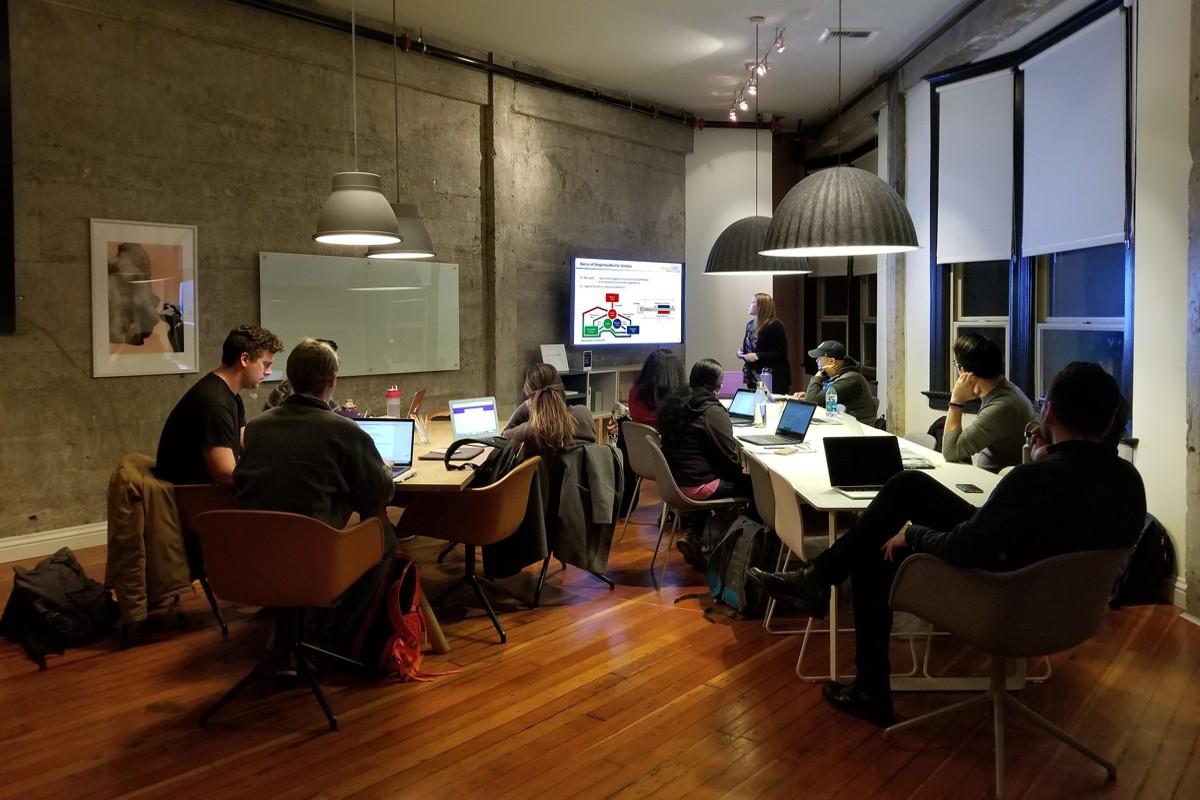 On a daily basis, much of the interaction between projects was driven by the close collaboration of the young researchers. To give the collaboration between the semi-annular retreats a formal framework, we established focus groups. These focus groups are action groups spanning projects and foster exchange between projects on particular aspects. Each focus group has regular meetings for presentations, discussions, and comparisons of achieved results. The participating projects are committed to send at least one representative to the focus group meetings and to address overarching aspects. Joining forces in the focus groups minimizes redundancy among the projects and allows for common research on overlapping topics.
We started with three focus groups dedicated to "Modelling", "Sensor Concepts", and "Biomagnetic Signal Analysis". As the focus group "Sensor Concepts" turned out to be very large (including about 70% of the CRC projects), we restructured the focus groups in 2018 with now six focus groups covering the topics mentioned in the table below.
Below you can find the upcoming as well as the past meeting events.
Upcoming Events
Past Events
| Date and time | Focus group |
| --- | --- |
| 20.06.2023, 11:00 h | F1 - Magnetic Layers (Jeffrey McCord) |
| 27.06.2023, 11:00 h | F4 - Magnetoelectric Sensors (Dirk Meyners) |
| 09.06.2023, 13:00 h | F6 - Biomedical Applications (Gerhard Schmidt) |
| 08.06.2023, 10:00 h | F3 - Comparison of Sensor Concepts (Michael Höft) |
| 25.05.2023, 14:00 h | F5 - Concepts based on Delta-E Effect (Franz Faupel) |
| 10.05.2023, 16:00 h | F2 - Modelling (Martina Gerken) |
| 08.03.2023, 16:00 h – 17:30 h | F4 - Magnetoelectric Sensors (Dirk Meyners) |
| 01.03.2023, 15:00 h – 17:00 h | F1 - Magnetic Layers (Jeffrey McCord) |
| 20.01.2023, 14:00 h – 15:30 h | F4 - Magnetoelectric Sensors (Dirk Meyners) |
| 19.01.2023, 08:30 h – 10:00 h | F3 - Comparison of Sensor Concepts (Michael Höft) |
| 19.01.2023, 10:00 h – 11:30 h | F6 - Biomedical Applications (Gerhard Schmidt) |
| 13.01.2023, 15:00 h – 17:00 h | F5 - Concepts based on Delta-E Effect (Franz Faupel) |
| 21.12.2022, 15:00 h – 17:00 h | F1 - Magnetic Layers (Jeffrey McCord) |
| 01.12.2022, 10:00 h – 11:30 h | F6 - Biomedical Applications (Gerhard Schmidt) |
| 17.11.2022, 09:00 h – 10:15 h | F3 - Comparison of Sensor Concepts (Michael Höft) |
| 11.11.2022, 15:00 h – 17:00 h | F5 - Concepts based on Delta-E Effect (Franz Faupel) |
| 31.08.2022, 14:00 h – 15:30 h | F1 - Magnetic Layers (Dirk Meyners) |
| 29.08.2022, 15:00 h – 17:00 h | F5 - Concepts based on Delta-E Effect (Franz Faupel) |
| 29.08.2022, 14:00 h – 15:30 h | F4 - Magnetoelectric Sensors (Jeffrey McCord) |
| 18.08.2022, 10:15 h – 12:15 h | F2 - Modelling (Martina Gerken) |
| 06.07.2022, 14:00 h – 15:30 h | F1 - Magnetic Layers (Dirk Meyners) |
| 04.07.2022, 14:00 h – 15:30 h | F4 - Magnetoelectric Sensors (Jeffrey McCord) |
| 27.06.2022, 13:00 h – 15:00 h | F2 - Modelling (Martina Gerken) |
| 27.06.2022, 10:30 h – 12:00 h | F6 - Biomedical Applications (Gerhard Schmidt) |
| 27.06.2022, 09:00 h – 10:30 h | F3 - Comparison of Sensor Concepts (Michael Höft) |
| 20.05.2022, 09:00 h – 11:00 h | F5 - Concepts based on Delta-E Effect (Franz Faupel) |
| 09.05.2022, 10:30 h – 12:00 h | F6 - Biomedical Applications (Gerhard Schmidt) |
| 09.05.2022, 09:00 h – 10:30 h | F3 - Comparison of Sensor Concepts (Michael Höft) |
| 09.02.2022, 15:30 h – 17:00 h | F1 - Magnetic Layers (Dirk Meyners) |
| 26.01.2022, 10:00 h – 12:00 h | F3 - Comparison of Sensor Concepts (Michael Höft) |
| 26.01.2022, 08:30 h – 10:00 h | F6 - Biomedical Applications (Gerhard Schmidt) |
| 19.01.2022, 15:30 h – 17:00 h | F4 - Magnetoelectric Sensors (Jeffrey McCord) |
| 17.01.2022, 10:00 h – 12:00 h | F2 - Modelling (Martina Gerken) |
| 11.01.2022, 17:00 h – 18:30 h | F5 - Concepts based on Delta-E Effect (Franz Faupel) |
| 08.12.2021, 15:30 h – 17:00 h | F4 - Magnetoelectric Sensors (Jeffrey McCord) |
| 24.11.2021, 13:00 h – 15:00 h | F6 - Biomedical Applications (Gerhard Schmidt) |
| 24.11.2021, 10:00 h – 12:00 h | F3 - Comparison of Sensor Concepts (Michael Höft) |
| 19.11.2021, 09:00 h – 11:00 h | F2 - Modelling (Martina Gerken) |
| 12.11.2021, 15:30 h – 17:00 h | F5 - Concepts based on Delta-E Effect (Franz Faupel) |
| 10.11.2021, 15:30 h – 17:00 h | F1 - Magnetic Layers (Dirk Meyners) |